Exhibitions and Curatorial
2022. Lux Nigra | Solo Show, Michele Schoonjans Gallery, Brussels, Belgium.︎
Lux Nigra. Close your eyes and you can see light on the inside. This is the black light or lux nigra. The black light doesn't stand for fear or absence, but is absorbent and welcoming. It envelops the viewer and is pure potential: here everything is still possible and anything could develop. This makes it the opposite of white, which is reflective, dismissive. White locks life and humanity out.
This exhibition displays works from three series: Girls' Playground, Shadows and In front, over, under and behind the light. The fence from Meijers' primary school is the point of departure for Girls' Playground's exploration of light and colour as matter. In Shadows, a projector screen and an unlit incandescent bulb depict the moment before the light changed into image, the 'light before the light'. Finally, In front, over, under and behind the light is Meijers' personal analysis of the development of thinking about colour in painting over the centuries.
2022. Tangerine | Group Show, Carpenters Workshop Gallery at TEFAF, New York ︎
Aldo Bakker curated the exhibition Tangerine for Carpenters Workshop Gallery at TEFAF New York 2022. The title Tangerine recalls the Netherland's symbolic orange colour, uniting the many facets of Dutch creativity under one flag with understated subtlety.
Bakker leads the exhibition with several new works, including the debut presentation of Ring Table. He has also selected complementary pieces from leading Dutch artists Maarten Baas, and Atelier van Lieshout, as well as light-sculptures from DRIFT and Nacho Carbonell. Adorning the walls are artworks from artists held in high esteem by Bakker, including Toon Verhoef, Tim Enthoven, Mathieu Meijers, and a large expressionist canvas by Robert Zandvliet which was selected by the artist as response to Bakker's own works.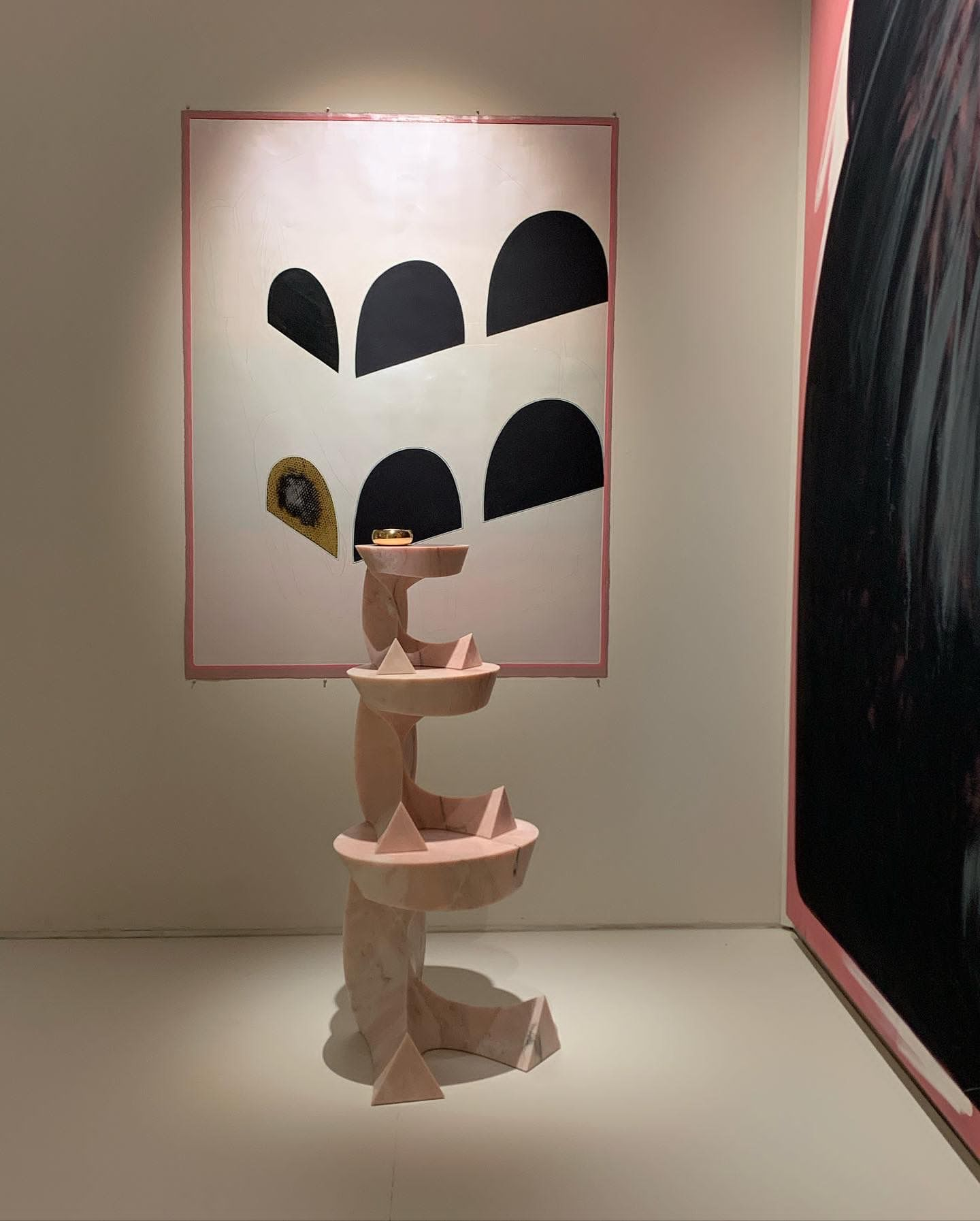 11 - 18 juni 2020. Light do not erase | De Aanschouw No 977, Rotterdam.︎
From the serie 'My aunts', 1976-2020. Eggtempera on goldleaf on paper on panel.
Curator: Artbutchers
Photography: Jan de Bruin
2019 - 2020. Breathing Colour, Hella Jongerius | Nationalmuseum Stockholm, Sweden.︎
The rich collection of the Stockholm National Museum has a large section of portraits of kings, knights, court members and also portraits of the Swedish bourgeoisie and Industrials of the nineteenth century. The collection of paintings stops at 1900. In contrast to the Boymans exhibition Mathieu Meijers has chosen a small number of paintings. For each of the three colour themes, three portraits that might be nowadays people and one interior were selected. These art works are positioned between the colour work of Jongerius, as an exclusive and concentrated conversation. In doing so they enlighten the content of these colour research and they suggest human readability.
2018. Breathing Colour | Museum Boijmans van Beuningen Rotterdam, Netherlands.
︎
Together with artist Mathieu Meijes, designer Hella Jongerius presents, after fifteen years of colour research, a series of installations that deepen our understanding of colour and form. She shows a collection of specially designed objects that show how the experience of colour and shape is influenced by daylight, which changes during the morning, afternoon and evening. Mathieu Meijers selected works from the collection of Museum Boijmans Van Beuningen to enlighten Hella's colour project. The works were selected focused on the following three themes:
there is light
, an evolution of the light during the day,
there is fire
, an associative story about the process of pottering and
there is darkness
, a cultural interpretation of the colour black and the absence of light.


2016. Fra Bartolommeo - de goddelijke renaissance | Museum Boijmans van Beuningen Rotterdam, Netherlands.
︎
During the exhibition 'Fra Bartolommeo - the divine renaissance', Museum Boijmans van Beuningen presented a selection of fifteenth and sixteenth-century drawings and prints. Here, Boijmans shows mainly Italian forerunners and contemporaries of Fra Bartolommeo and works related to the main exhibition, including his two portraits of Michelangelo. The colour concept of the exhibition was based on the idea to complete the selection of works with images of paintings that were not part of the exhibition. Therefore, these images were printend in strong monochrome colours on the walls. Mathieu Meijers developed a colour range, based on the interpretation of the dramatic scenery of the paintings. The walls were
malachite
, a functional heaven background grey, executed in either paint or printwork.
2016. Broken White | Van Abbemuseum Eindhoven, Netherlands.
︎
The blue tap is cold, the red one hot. Orange invokes feelings of excitement. And yellow draws attention to shop windows. Everybody relates to colours, often even emotionally, but how this works no one knows. This instills chromo-phobia in designers: the fear of colours which is suppressed by rules, fashion and style.
The digital revolution has changed everything. For centuries colour was thought of in terms of light falling onto an object and being reflected to a greater or lesser extent. Total reflection results in white, absolute absorption in black. But the screens that are ever present nowadays aren't objects reflecting light. They radiate light themselves. The source of colour has changed and with it its appearance.
During his teaching career at the Design Academy Eindhoven artist Mathieu Meijers developed a concept that enables us to recalibrate our understanding of colour. The artworks and design objects in
Broken White
embody this.
On the one hand we have the light, reflective objects that appeal to eminent emotions, inform our identity and inspire systems, sometimes even dangerously so. On the other hand we have objects in dark, absorbent colours that invoke feelings of security, but also fear, that represent earthiness and intuition. Thanks to new technologies and materials the appearance of colours changes and so does their meaning.
Broken White
shows how designers and artists deal with this and how the latter help shape that meaning.